Thank You from Richmond Tymchuk Family Law LLP
We are very pleased to announce that Richmond Tymchuk Family Law LLP has been voted as Top Pick Winner for 2021 in the category of Best Lawyers in Calgary and surrounding area!
Best Lawyers in Calgary
Each year, CommunityVotes recognizes the outstanding businesses and services that make our lives better as voted by those in the community. Local businesses are nominated by and voted for by members of the community. Nominations are accepted throughout the year, voting takes place at the end of the calendar year and winners are announced in January the following year.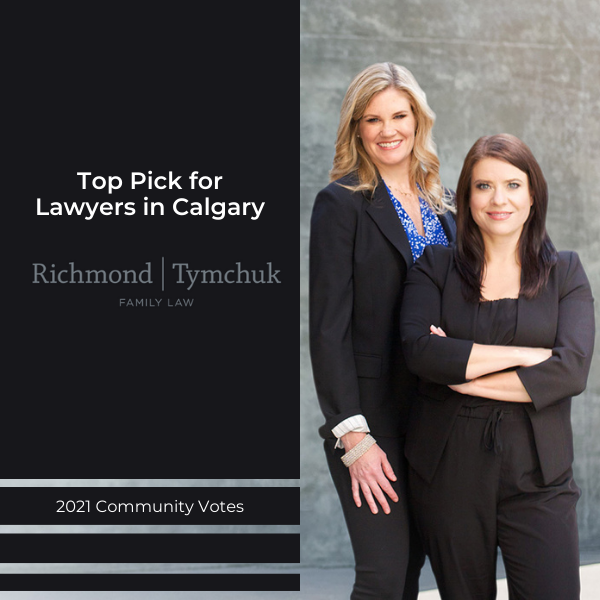 This is the second year in a row that Richmond Tymchuk Family Law LLP has been nominated and voted as the Best Lawyers in Calgary by the community.
Focused on Family Law
Richmond Tymchuk Family Law LLP was founded in 2019 by veteran family lawyers Diana J. Richmond KC and Laurie J. Tymchuk. More than just divorce lawyers, our team of family law experts at Richmond Tymchuk Family Law works with our clients to ensure that they're informed to make the best decisions for their family and for themselves. When it comes to matters of divorce, child support, custody, spousal support, division of property and other family law issues, our skilled family lawyers and legal service professionals answer all those questions you never thought you'd need to ask.
Focused on Family
Our focus is always to ensure the best outcome for our clients that protects their interests, their children and their assets. Our jobs as family lawyers and divorce mediators are to make your divorce boring and simple, with everyone involved walking away feeling OK about the process.
"We'd really like to thank our clients who trust us with their family law matters. Our clients come to us because they need a family law lawyer who knows what they're doing and can help them resolve their case. Some of our clients have been stuck in their proceedings for months or years before engaging us and being able to help finally close that chapter of their life and move on is very rewarding." ~ Diana J. Richmond KC

Work With An Experienced Family Law Team
If you are looking for a Calgary divorce lawyer, you can trust our team of family law experts. We've worked with numerous Calgary families to settle complex divorce proceedings, negotiate settlements and determine support payments. Contact us today.