We are incredibly thankful and humbled to have received the 2022 "Best Lawyers in Calgary" award from Community Votes Calgary. This recognition is a testament to our unwavering commitment to providing top-tier family law services to our clients.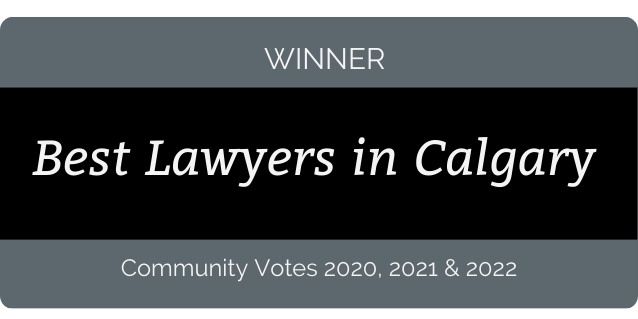 We take great pride in being a leader in the field of family law. This award affirms to us that the hard work, dedication, and expertise from our entire team is appreciated by those we serve enough that they'd make the effort to vote not just this year, but for the past 3 years in a row that we've won the category of "Best Lawyers in Calgary".
"It's always a surprise to win a community award but to have been voted the Best Lawyers in Calgary for three years in a row is very special recognition for our family law firm." ~ Diana J. Richmond KC, Founding Partner at Richmond Tymchuk Family Law
Thank you to our clients
At Richmond Tymchuk Family Law, we are truly grateful for our client's trust and support. Their positive feedback and satisfaction inspire us to continue delivering exceptional family law services. We know that in most situations where you need to hire a family lawyer there is a bit of stress and uncertainty involved and it's our goal to not only give you the best representation and guidance but to know that we've got your back.
"You don't know how much peace of mind you give me knowing that I have someone on my side taking care of my welfare." ~ Real feedback from a real client.
Thank you to our team
We also want to acknowledge our exceptional team of legal professionals who work diligently each day to deliver unparalleled family law services. Your hard work, knowledge, and dedication are truly appreciated and have been instrumental in helping us earn this recognition.
"As our family law firm has grown, we've been fortunate to have hired excellent Calgary family lawyers, paralegals and support staff join our team. This recognition is due to their hard work and dedication to all our clients." ~ Laurie Tymchuk, Founding Partner at Richmond Tymchuk Family Law
Hire the Best Calgary Divorce Lawyer
If you want to ensure the best possible outcome for your family law matters, find a Calgary family lawyer who understands your situation and has the experience to get the results you're looking for. Our Calgary divorce lawyers are skilled in very complicated divorces and are skilled in arbitration and mediation to keep you out of the court where possible, saving you time and money. However, if you do need to take your divorce to court, our family lawyers have a track record of success with many recorded decisions. Contact us today to discuss your specific family law matter.